Author's Background

---
First Chapters:
Books by Dan E. Moldea

---
Newly released:
Interference in eBook
with a new Afterward



Keith Olbermann of ESPN
interviews DEM
(Two-part interview)

Moldea v. New York Times
Chronology of Events


Lecture Bookings
---
Jodi Solomon
Speakers Bureau
(617) 266-3450
Lecture Appearances:
Colleges & Universities


D.E.M. on YouTube
---



On the rise & fall of Jimmy Hoffa (1978)


Part 1

and

Part 2



On Ronald Reagan,

MCA & the Mafia (1986)


On the NFL & and the Mafia

(1989)



On the supposed death of the Mafia

(1992)



On the murder of Robert Kennedy (1995)



On the

s

uicide of Vincent Foster (1998)


Part 1

and

Part 2



Sidelines
---
D.E.M.'s Reports,
Responses & Retaliations

---
On Hoffa, Marcello, Trafficante
and the JFK murder:
Crediting The Hoffa Wars
for saying it first

---
Fallout from the RFK murder case:
Moldea on the "new revelations" in the
RFK case: Much ado about nothing
On O'Sullivan's "paranoid's paradise"
Response to the false
charges made by Sirhan's stooge

Response to Jerry Policoff's lies
about Greg Stone's suicide

Re: "The Curious Case
of Dan Moldea" (RFK).
---
Fallout from the Anthony Pellicano trial:
Moldea on Anita Busch's false charges:
"Anita is not telling the truth . . .
Moldea on John Connolly's false charges:
"Connolly is being less than truthful . . .
---
Fallout from the Clinton scandals:
Re: The Hunting of
the President: The Movie
The White House had no
role in the Flynt Project
---
Fallout from the Reagan scandals:
Ronald Reagan's
grand jury testimony
---
The Bushes:
---
The O.J. Simpson case:
The 1994 Bronco chase:
Tom Lange-OJ Simpson drama
---
The NFL and the Mafia:
Moldea v. New York Times:
Chronology of Events

Roger Simmons v. Ken Starr:
On Moldea v. New York Times

---
The Jimmy Hoffa murder case:
Re: Rolland McMaster,
Frank Sheeran, and Jimmy Hoffa

Andy Petepiece on the
Sheeran/Brandt book

Anthony Zerilli and the Hoffa case

The Hoffa Wars (1978 excerpt in Playboy)

---
Various Mafia stories:
Bill Jahoda
and the Chicago Outfit
---
Personal stories:

On the conviction in the
Chandra Levy case (2011)

On the National Rifle Association (1987)

On the suicide of Jeane Palfrey
NOW AVAILABLE
Click the cover for updates,
reviews, excerpts & errata
---



First review


10-12-2013

Mel Ayton
(

History News Network

)

"[Dan Moldea] is one of America's
best investigative reporters. . . ."


---

Book party at the home of
Jim Grady & Bonnie Goldstein
12-7-2013

Janet Donovan
(Hollywood on the Potomac)



"We're here to honor someone who fights for truth, justice [and] the American way."


---

E. Ethelbert Miller interviews DEM about Confessions of a Guerrilla Writer
12-18-2013


"I view the right wing of the Republican Party as an emerging organized-crime group, and I consider Fox News to be a criminal enterprise." (DEM)


---

CONTENTS OF CGW

Part Two:
The Teamsters & the Mafia
Part Three:
Hoffa, Marcello & Trafficante
Part Four:
Ronald Reagan & MCA
Part Five:
The NFL & the Mafia
Part Six:
Moldea v. New York Times
Part Eight:
The Road to Impeachment
Epilogue

Endnotes


---
Inscription from Mel Weinberg, the sting man who inspired the film, American Hustle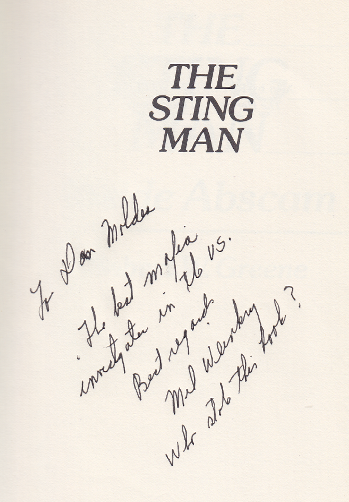 ---
Acknowledgments
for Moldea.com

---
Designer & webmaster:
George A. Hord, Chisel Works
Gryphon Technologies:
Pam Braden, president
Broken-links service:
LinkAlarm

Bushology Interactive graphics:
Alex Simmons, Flash Creatures

---
Thomson von Stein:
A History of Knowledge