NEW RELEASE
Third Edition


Author's Background

---
---

Lecture Bookings


---
Jodi Solomon
Speakers Bureau
(617) 266-3450
Lecture Appearances:
Colleges & Universities


---
DEM Archives
---
Dan Moldea Collection:
George Mason University
---

Sidebars


---
Films
1958 Topps
(football-card collection)

Moldea v. New York Times
Chronology of Events

The Interim and Final Reports
of the Senate Rackets Committee
(1958-1960)

357th Fighter Group: WWII Aces


---

DEM's Reports,
Responses & Retaliations


---
The JFK murder

On Hoffa, Marcello, Trafficante
and the JFK murder:
Crediting The Hoffa Wars
for saying it first

---
Fallout from the RFK murder case:

Moldea on the upcoming
50th anniversary of the murder
On O'Sullivan's "paranoid's paradise"
Response to the false
charges made by Sirhan's stooge

Re: "The Curious Case
of Dan Moldea" (RFK).
---
Fallout from the Anthony Pellicano trial:
Moldea on Anita Busch's false charges:
"Anita is not telling the truth . . .
Moldea on John Connolly's false charges:
"Connolly is being less than truthful . . .
---

Money, Politics, and Corruption
in U.S. Higher Education

Introduction by
Louis Clark

Excerpt from Part One:
Dr. Jon Oberg

Excerpt from Part Two:
David Halperin

Excerpt from Part Two:
Rod Lipscomb

Excerpt from Part Three
Dr. James Keen

Excerpt from Part Four
A conversation among whistleblowers


---

Fallout from the Clinton scandals:
Re: The Hunting of
the President: The Movie

The White House had no
role in the Flynt Project
DEM on Brett Kavanaugh and the OIC

---
Fallout from the Reagan scandals:
Ronald Reagan's
grand jury testimony
---
The Bushes:
---
The O.J. Simpson case:
The 1994 Bronco chase:
Tom Lange-OJ Simpson drama
---
The NFL and the Mafia:

DEM: Do the NFL owners want to control the gambling action on pro football?
Moldea v. New York Times:
Chronology of Events

Roger Simmons v. Ken Starr:
On Moldea v. New York Times

Exploiting the illegal gambling economy

---
The Jimmy Hoffa murder case:
Collection of DEM's online materials
about the disappearance of Jimmy Hoffa

Re: Rolland McMaster,
Frank Sheeran, and Jimmy Hoffa

Who is Vinnie Ravo, and what did
he know about the Hoffa case?

Andy Petepiece on the
Sheeran/Brandt book

Anthony Zerilli and the Hoffa case

The Hoffa Wars (1978 excerpt in Playboy)

---
Various Mafia stories:
Bill Jahoda
and the Chicago Outfit
---
Personal stories:

On the National Rifle Association (1987)

On the suicide of Jeane Palfrey
---
DEM: MOBOLOGY on Substack
---

Jimmy Hoffa, Frank Cappola & PJP


Frank Cappola's sworn declaration
October 7, 2019

* * *

Dan E. Moldea
Facebook posts about Jimmy Hoffa
By date
2014 - present


---

Scott Burnstein, Gangster Report
"The search for Hoffa: An update"
November 17, 2023

Tommy Canale, Before the Lights
Interview with DEM on Jimmy Hoffa
January 16, 2023

Jeff Burbank, The Mob Museum
"Latest Search for Jimmy Hoffa's Remains
Joins Long List of Fruitless Attempts"
September 9, 2022

Jack Goldsmith, Lawfare
"47 Years of Feckless Digging"
July 29, 2022

See DEM on YouTube,
reading his statement below
July 28, 2022

Dan Moldea: Deadline Detroit
"Moldea: 'I Still Believe That
Jimmy Hoffa Was, Or Is
Buried in New Jersey'"
July 28, 2022

Michael Wilson, New York Times
"Search for Hoffa Under Jersey City
Bridge Came Up Empty, FBI Says"
July 21, 2022

Ed White, Associated Press
"FBI: No sign of Jimmy Hoffa
under New Jersey bridge"
July 21, 2022

Dan E. Moldea
"On Eric Shawn of Fox News"
April 7, 2022

Dan E. Moldea
"On Phillip Moscato Jr."
February 28, 2022

Allan Lengel, Deadline Detroit
"Allan Lengel interviews FBI-SAC
Timothy Waters of the Detroit field office"
December 7, 2021

Roger Schneider, Associated Press
"Theories in the disappearance
of Jimmy Hoffa" (excerpt)
November 25, 2021





Ted Shaffrey, Associated Press
Video interview with DEM
"FBI looks in N.J. for Jimmy Hoffa's remains"
November 24, 2021



James Barron, New York Times
"A New Search for Jimmy Hoffa"
November 23, 2021

Michael Wilson, New York Times
"Search for Jimmy Hoffa Leads
FBI to Jersey City Landfill"
November 18, 2021

Dan E. Moldea, The Mob Museum




---
DEM Books and eBooks
including those with new Afterwords


---

Dan E. Moldea
P.O. Box 32274
Washington, D.C. 20007
Email: moldea@moldea.com


---


Collages

---
A collage, accompanying Moldea's November 1978
article in Playboy about Jimmy Hoffa, by Kinuko Y. Craft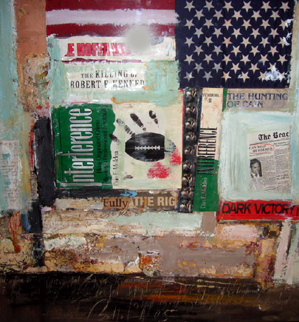 A collage, featuring the covers of Dan
Moldea's books, by Bethel Aniaku of Togo

LATEST RELEASE
Fourth Edition

---
A contentious sitdown about the
upcoming De Niro-Scorsese
film on Jimmy Hoffa
(l-r) Robert De Niro, Gus Russo
(in brown shirt), Dan Moldea


The Old Europe Restaurant
Washington, D.C.
December 2, 2014
(Photo credit: Dale Myers)
---